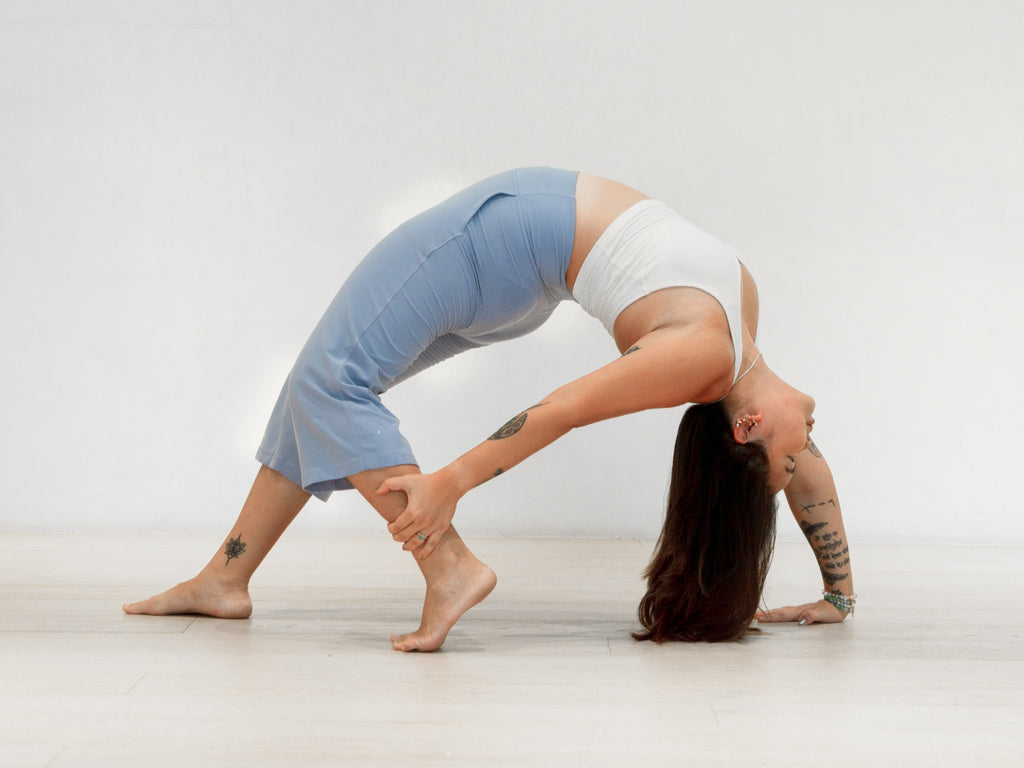 $3,900.00
$0.00
200-hour Full Time Vinyasa Yoga Teacher Training with Meiyan Cheong, Apr 29 - May 24
River Valley
200-hour Yoga Alliance Recognised Course
Led by Meiyan Cheong
Monday to Friday, April 29 - May 24, 2024
At the root of our being lies our inner guru with the wisdom to guide us into discovering our own inner light and truth. Our experiences, core beliefs, and the people around us can either bring us closer to this discovery or unknowingly shield us from it. In the same way that yoga has brought Meiyan closer to honouring her true self, she hopes to hold space for you, too, to cultivate balance, love, and light in your life both on and off the mat.
Inspired by Meiyan's experience in Vinyasa and Yin, this training program aims to explore and discuss the dualistic energies of Yin & Yang, Grounding & Uplifting, Comfort & Challenge, Striving & Letting go. As such, trainees will be exposed to these styles, which will prepare you with a solid foundation to teach Yoga from the space you most resonate with. Yoga philosophy, pranayama, anatomy, asana and teaching methodologies, including sequencing and learning to hold space for students are all key portions of the curriculum that will be covered.
Our daily study will consist of a morning asana and pranayama practice, theory, sharing, an "asana workshop" where we break down asanas and learn how to guide students into them safely, as well as time for practice teaching. Each session will close with a short meditation or yoga nidra.
Although the training exposes us to the physical practice of yoga and how to guide students safely into asanas, we will be exploring asana as part of the eight limbs of yoga. An advanced asana practice is not a prerequisite for this program—Meiyan welcomes anyone from all walks of life, on any page of their yoga journey.
CURRICULUM AND CONTENT OVERVIEW
Week 1: Yoga Philosophy & Steadiness in an Asana Practice
We lay the foundations of yoga with sacred texts, sutras, mantras and philosophy. In this module, we will explore Patanjali's eight limbs of yoga, chakras, pranayama, kriyas,bandhas and drishtis. These topics will invite self-inquiry, reflection, contemplation, and discussion to offer a deeper understanding of yoga off the mat.
We will explore the three variations of Surya Namaskar, as well as standing poses and seated poses. These postures will be broken down for us to understand their modifications and alignment. This module also exposes us to the sanskrit names of these postures, which is useful for us as teachers to know.
Week 2: Introduction to Anatomy, Physiology & Sequencing
In this module, we will be guided by osteopathic physician and E-RYT 500hr educator Dr. Bryan Ng. Functional anatomy sessions will guide you through the biomechanics of movement, common injuries and how to avoid them, as well as the physiology of breathing and stress management.
Upon gaining a basic understanding of the skeletal and muscular systems, you will be better equipped to create thoughtful and intentional sequences surrounding different themes, muscle groups, or peak poses, which we will explore simultaneously.
Week 3: The Art of Teaching
Practice teaching starts early on in our training in small groups and for 30 minutes each day. By our third week, we will begin practice teaching to the entire class in short sequences, gradually leading up to a full 60 minute class. We will learn to cue precisely and efficiently, and begin to explore different styles that resonate with you the most. We will dive deeper into different sequencing themes, different styles of yoga, and share our findings and reflections. During this week, we will also explore adjustments, assists, and modifications for practitioners with injuries as well as pregnant & postpartum women.
Week 4: Diving Deeper & Journeying Inwards
In our final week of training, we explore deeper aspects of Yoga Philosophy that impact both our personal practice and our teaching practice. The concept of duality will be explored through Yin & Yang, Samkhya Philosophy, and the Three Gunas. We will also explore ancient texts like the Bhagavad Gita, the Yoga Sutras, and a selection of mantras. We will start to digest all our learnings over the past few weeks, and begin to prepare for our final assessments, as well as clarify any doubts from the previous modules.
Throughout course: Svadhyaya
Self-study, Self-practice & Reflections
Svadhyaya, or self-study, is a section in your manual for you to document your self-practice and reflections. This can be in the form of your own pranayama, asana self-practice or meditation at home, or a studio practice over the weekend before we gather again at the start of each week. It is important to set aside time for your own private practice to observe how you may apply concepts from your training into your practice. This module is to cultivate discipline and self-inquiry for yourself as a practitioner on your journey to learning to teach.
SCHEDULE
Monday - Friday, Apr 29 - May 3 (PH inclusive)
Monday - Friday, May 6 - May 10
Monday - Friday, May 13 - May 17
Monday - Friday, May 20 - May 24 (PH inclusive)
7.30am - 5.30pm
DAILY STUDY
7.30am Morning Pranayama & Asana Practice
9.00am Break
9.15am Theory
11.45am Lunch (60min) & Silent Reflection (30min)
1.15pm Theory
3.30pm Asana Workshop
4.30pm Practice Teaching
5.00pm Closing Meditation or Yoga Nidra
The structure of our Daily Study will differ slightly during our Guest Trainers' sharing.
GUEST TRAINERS
Dr Bryan Ng, Anatomy & Physiology
Angeline Chia, Chakras & Energetic Modalities, Exploring Inversions
TUITION
Early Bird (by March 4): $3,900
Regular: $4,500
CANCELLATION POLICY
Cancellations received 30 days before the start of the course incurs a fee of $250.
Cancellations received less than 30 days before the start of the course results in full forfeit of the tuition fee.
ABOUT MEIYAN CHEONG
Since her regular yoga practice began in 2014, yoga has brought Meiyan closer to understanding her true self and learning to honour it. She hopes to guide her students on their own individual paths towards finding balance, love, and light both on and off the mat.
As a swimmer and biathlete in her university days, movement involved a stopwatch, while progress meant measurable results, goals, and a great deal of expectations towards herself. Yoga came into her life at a time when letting go and trusting served her much more than holding on and controlling–a lesson that she is still working on till this day.
Meiyan fell in love with the freedom she experienced from a vinyasa class, and embarked on her 200 hour teacher training in 2016. Within that same year, she left her corporate marketing job and dove head first into teaching yoga full time. She later completed her 300 hour teacher training in 2022 with a specialised focus in yin, vinyasa, philosophy and mindfulness, and passionately incorporates these elements into her own 200 hour teacher training curriculum.
As a practitioner and a teacher, Meiyan gravitates towards various forms of sound healing. She enjoys theming her classes around mantras and sometimes brings an instrument or two to class for her students to enjoy the relaxing and introspective effects of sound. Her lesson on finding balance continues to inspire her teaching as she explores the dualistic energies of Yin & Yang: Grounding & Uplifting, Comfort & Challenge, Striving & Letting go. It comes as no surprise that her favourite styles to teach are Vinyasa and Yin.
Regardless of the style of practice, a mantra she has held close in her teaching and personal practice for many years is the simple reminder "you are enough".
Outside of yoga, Meiyan can be found soaking in the water under the sun, arranging flowers for her loved ones, or enjoying some introvert time with her three cats at home. She co-owns Lighthouse Adventure Co, a Singapore based dive center and travel agency, with a group of good friends.