$399.00
$0.00
Discover the Power Within: Hot Hatha Workshop with Maria Lourdes Chan, Sep 10 & 23
Orchard Central
Sunday & Saturday, September 10 & 23, 2023
8am - 11am
Are you ready to take your Hatha yoga practice to a whole new level? Unlock the secrets of correct postures and activate the right muscles during this exhilarating Hot Hatha workshop with Maria. Join us for an empowering journey of self-discovery and transformation that will leave you feeling invigorated, balanced, and more connected to your body than ever before.
What is Hot Hatha Yoga?
Hot Hatha Yoga is an ancient practice that combines the benefits of traditional Hatha Yoga with the power of heat. The controlled, heated environment allows your muscles to relax, promoting deeper stretches, enhancing flexibility, and detoxifying your body through sweat. With 26 carefully curated poses, this workshop will delve into the standing series and each posture's nuances, ensuring you achieve the correct alignment and maximize the benefits.
3 Hours of Immersive Learning
In this 3-hour intensive workshop, Maria will guide you through the fundamental principles of Hot Hatha Yoga. From beginners to seasoned practitioners, all are welcome to participate in this transformative experience. We will break down each pose of the standing series, offering personalized adjustments and guidance to help you refine your practice.
Activate the Right Muscles
Have you ever wondered if you are activating the right muscles during your yoga practice? 

The primary focus of Maria's workshop is to help you understand the anatomy behind each posture. By gaining this insight, you'll learn how to engage specific muscles effectively, allowing for deeper stretches and preventing injuries. Unlock the true potential of each pose and elevate your practice like never before!
Workshop Highlights

In-depth exploration of the poses in the standing series of Hot Hatha Yoga.
Personalized attention and hands-on adjustments to refine your alignment.
Detailed guidance on muscle activation for enhanced strength and flexibility.
Cues and visualization techniques to make the most out of your Hot Hatha practice.
Safe and supportive environment for all levels of experience.
Opportunities to ask questions and interact with like-minded yogis.
Price

$399 per session



Dates available


- Sunday, September 10, 2023
- Saturday, September 23, 2023

Spaces for this transformative Hot Hatha Workshop are limited to 10 spots per workshop.

Cancellation Policy
Please note that this event is non-refundable.
ABOUT MARIA LOURDES CHAN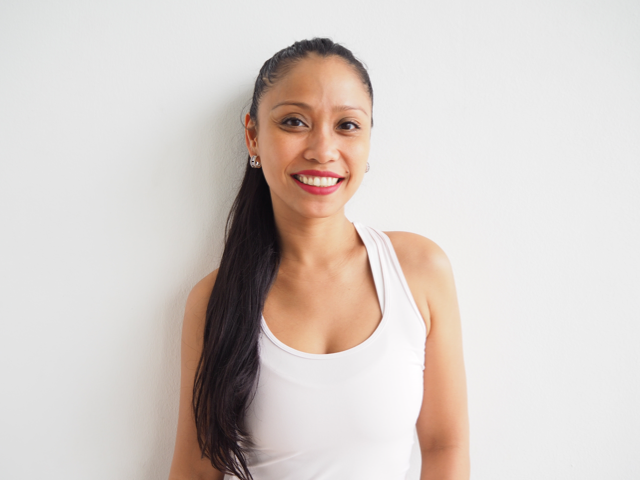 Maria Lourdes Chan is a yoga teacher and practitioner with over a decade of experience.
This led her to teach worldwide, including in New York, Hawaii, Las Vegas, France, Italy, Japan, Manila, Thailand, and Jakarta.
She believes that health is more important than wealth, and that to live is to serve. 
To uplift people spiritually, mentally, and physically is her motto in life.
Maria's classes are fun and challenging while centered around mindfulness, awareness, breathing, and nurturing the body and mind.
She balances a commitment to body mechanics with guidelines for safety and inner inquiry.
Her classes are focused on helping her students build more robust mental and physical capabilities whilst making non-competition and compassion a true part of the practice.
Maria's sequences aim to move away from denser forms of physical practice to allow for more subtle techniques such as utilizing the breath to promote the movement of energy and facilitate the union of breath, body, and mind.
Her magnetic personality and her in-depth knowledge of alignment and the human body have led her to tour and train with some of the most prominent international personalities, including Japanese pop star Ayumi Hamasaki.
If there's a muscle she sees you not using, she'll make you work it!
She pushes you to your limits, with all the love in the world.