$58.00
$0.00
Flow & Restore: New Year's Eve Nada Yoga Practice with Angeline Chia & Meiyan Cheong, Dec 31
Orchard Central
Sunday, December 31, 2023
10.30am - 12.30pm
We invite you to close the year with a Nada Yoga practice led by Angeline and Meiyan.
Nada means sound, and the practice of Nada yoga in a Yin Yang approach invites us to connect with our internal sound through the presence of external sounds that can both uplift and ground us.
Throughout the practice, we will enjoy live sound accompaniment from steel drums, swinging chimes, crystal singing bowls and other accompanying instruments as well as mantras that are chanted or sung.
The first half of the practice will be dynamic, where we explore movement meditation. We then transition towards a restorative practice for the remaining half, where we invite conscious relaxation into our practice through longer passive holds in a supportive environment, encouraging the body to release deeply-held tension.
Arrive to tune inwards, flow, and restore.
Price
$58
Cancellation Policy
Please note that this event is non-refundable.
ABOUT ANGELINE CHIA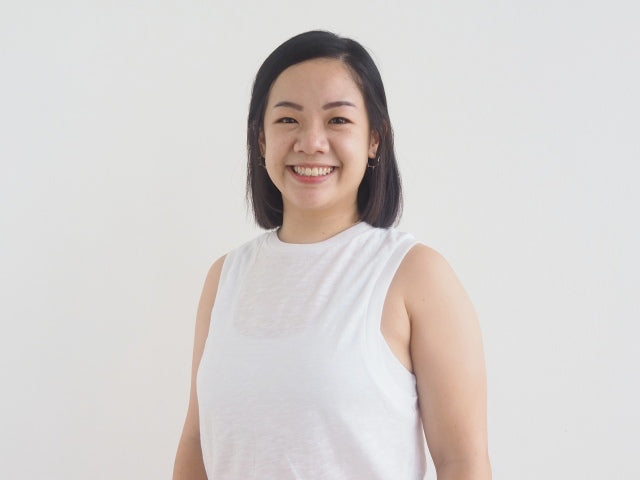 Angeline's yoga journey began in 2012 in her bedroom following classes on YouTube. Her love for yoga is best described as a long-term relationship, where you've been through various seasons of life, practicing moderately and allowing it to take root in a sustainable way. She has benefited the most from the introspective and self-study part of the practice which continues to enrich her life off the mat.
She believes each practice begins with an intention, so that it becomes clear what type of energy we need, to find balance on that particular day. From there, we take mindful options and steer ourselves towards practicing in a way that will serve and support us, even in a group class setting. While there is room for creative and dynamic exploration during classes on energetic days, Angeline also seeks to nurture and offer guidance for those looking for a more grounded practice. Angeline is naturally inclined towards healing modalities and have undertaken trainings in reiki, sound therapy and honing her intuition.
She is currently seeking to deepen her practice and offerings in Restorative Yoga, where she focuses more on creating a safe space for the nervous system to down-regulate and release long held tension.
ABOUT MEIYAN CHEONG
Since her regular yoga practice began in 2014, yoga has brought Meiyan closer to understanding her true self and learning to honour it. She hopes to guide her students on their own individual paths towards finding balance, love, and light both on and off the mat.
As a swimmer and biathlete in her university days, movement involved a stopwatch, while progress meant measurable results, goals, and a great deal of expectations towards herself. Yoga came into her life at a time when letting go and trusting served her much more than holding on and controlling–a lesson that she is still working on till this day.
Meiyan fell in love with the freedom she experienced from a vinyasa class, and embarked on her 200 hour teacher training in 2016. Within that same year, she left her corporate marketing job and dove head first into teaching yoga full time. She later completed her 300 hour teacher training in 2022 with a specialised focus in yin, vinyasa, philosophy and mindfulness, and passionately incorporates these elements into her own 200 hour teacher training curriculum.
As a practitioner and a teacher, Meiyan gravitates towards various forms of sound healing. She enjoys theming her classes around mantras and sometimes brings an instrument or two to class for her students to enjoy the relaxing and introspective effects of sound. Her lesson on finding balance continues to inspire her teaching as she explores the dualistic energies of Yin & Yang: Grounding & Uplifting, Comfort & Challenge, Striving & Letting go. It comes as no surprise that her favourite styles to teach are Vinyasa and Yin.
Regardless of the style of practice, a mantra she has held close in her teaching and personal practice for many years is the simple reminder "you are enough".
Outside of yoga, Meiyan can be found soaking in the water under the sun, arranging flowers for her loved ones, or enjoying some introvert time with her three cats at home. She co-owns Lighthouse Adventure Co, a Singapore based dive center and travel agency, with a group of good friends.